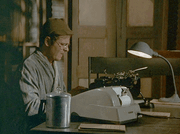 When a wounded Red Chinese goes crazy in the operating room, he contaminates Trapper's patient. Meanwhile, Frank and Margaret insist on a psych evaluation for Klinger, in hopes that he'll get his Section 8 and go. Also, Hawkeye falls for a new nurse. Written by Kathy Hofmann
Errors and Explanations
Edit
Internet Movie Database
Edit
Continuity
Edit
When Henry Blake calls Klinger into his office to discuss the charges brought against him by Majors Burns and Houlihan, Klinger is wearing the red spaghetti-strap dress that was already damaged by the Chinese P.O.W. He probably changed into a spare dress.
Movie Mistakes
Edit
Continuity
Edit
The psychiatrist is called Milton Freedman in this episode and Sydney Freedman in all other episodes in which he appears (always being played by the same actor - it is the same psychiatrist). He may have received permission to use a different, more friendly sounding, name - most likely his middle name - to put people at their ease.
Community content is available under
CC-BY-SA
unless otherwise noted.